Learn to Meditate: Ignite Your Peace and Power
Anubhuti Meditation and Retreat Center
820 Bel Marin Keys Blvd
USA
Day Retreat
10 am - 5 pm
Would you like your spiritual foundation of peace and power to broaden and grow? To understand the secrets of consciousness and the spirit is to gain an inner peace that is a source of power. Not power over someone but power of the self in order to remain stable in the many challenges of our lives. This consciousness involves spiritual knowledge, meditation and positive action. It is both the journey and the destination and in its simplicity reveals the treasures of the spirit.
What You Will Learn:
Meditation. Learn to calm and focus the mind in a positive direction.
Learn spiritual truths to enhance your life and of those around you.
Develop a clear understanding of meditation and spiritual knowledge that you can apply to greatly improve the quality, sense of happiness and inner peace in your life.
Facilitators:
April 28: Elizabeth Padilla and Vaishali Jogi
June 9: Janardhan Chodagam
Elizabeth Padilla is a meditation teacher and practitioner with over 30 years of experience with raja yoga. She lives at Anubhuti, where she manages the programming and retreats. She also leads the Brahma Kumaris' environmental initiative in the U.S. Elizabeth has graced dozens of Bay Area interfaith programs as a performer, teacher, and activist, has held staff positions at the San Francisco Interfaith Council and served on the Board of the Marin Interfaith Council. She is a gifted actor and singer trained at the American Conservatory Theatre and is currently touring with a one-woman performance called Songs of My Soul.
Vaishali J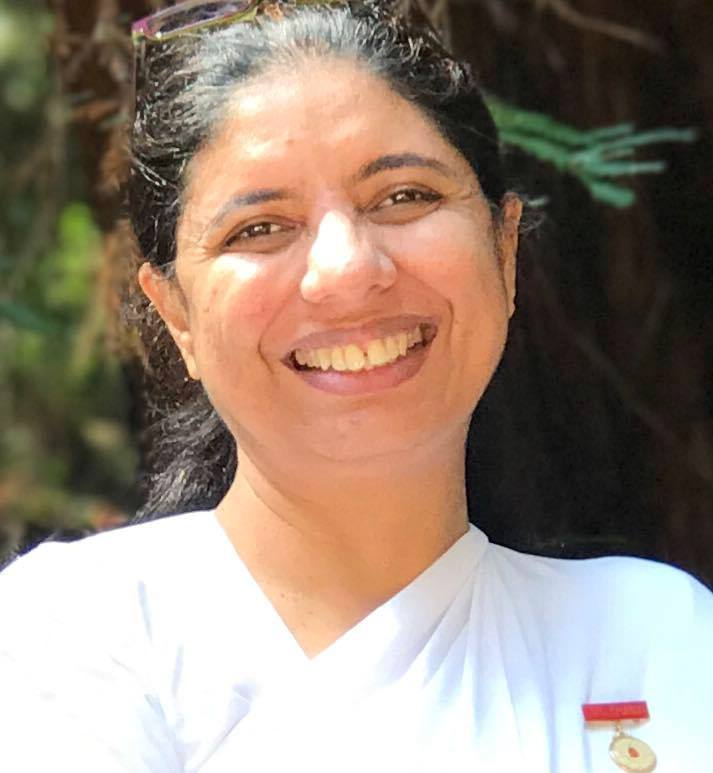 ogi, MComm in management, professional account manager. Spirituality and the joy of sharing goodness have always been Vaishali's passion. In her teenage years, she used to gather slum area kids and teach them the essentials of good living. Since pursuing a career as an MBA (finance) for the last twenty years, she has been offering meditation sessions, self-development workshops, yogic cooking and meditative dance movement classes to people of various faiths and professions at multiple locations in India and USA including City College of San Francisco where she serves as a principal accountant. Her life's inspiration is "Always wear the perfume of love and peace and the world gets served wherever you are."
Janardhan Chodagam was a techie by day and meditation trainer by nights and weekends. As a student of the Brahma Kumaris for almost two decades, his research of meditation techniques led him to become a proponent of awareness training for people of all ages and backgrounds to identify their purpose and enhance their sense of self-worth. Janardhan co-produces the annual SPIRIT Summit in India and Peace in the Park festival in San Francisco. He also regularly conducts workshops and seminars at companies, schools, hospitals and prisons in the Bay Area.
Includes wholesome and delicious vegetarian lunch and snacks with tea/coffee break
Note: You must register and be able to attend the full retreat in order to participate. This retreat fulfills the prerequisite for the special group meditation and meeting with Sister BK Shivani on June 16.
All events at Anubhuti are made possible by the generosity and contributions of the participants. To make your contribution now, click the PayPal Donate button below.
Click the button below to register for Learn to Meditate: Ignite Your Peace and Power
+1-415-884-2314

Email: This email address is being protected from spambots. You need JavaScript enabled to view it.


Please Call to Visit
820 Bel Marin Keys Blvd., Novato, California 94949 USA
Please visit our online shop.
Click here.